Please be patient as people update their mods for 3.5.0
There is no value in asking modders to update their mods - they're most likely well aware and spamming mod comments with requests won't change anything.

Modders - we encourage you to report people that annoy you either through DMs or with repeated comments asking about updates - Staff will happily hand out warnings to offenders.
PLEASE READ! IMPORTANT
This tool TRANSFERS and MOVES your mods, it does NOT convert them. Poor choice of words on my part. Apologies!
Hello!
Hello again!
This is a simple little tool for mod porting. It's designed to allow users to transfer all server and/or client mods in one go.
There's nothing special about it, but it features some neat stuff.
Image: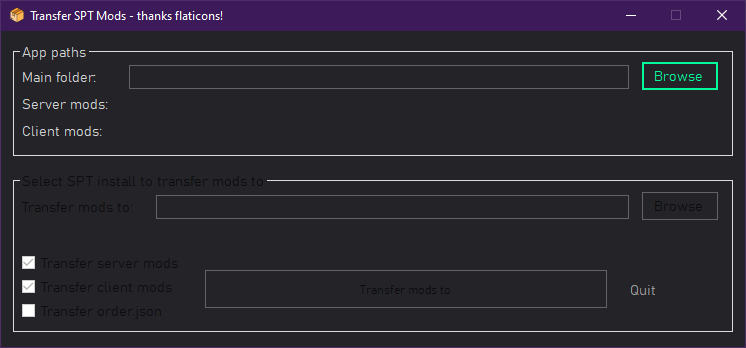 Features
Home-directory system; if placed in an SPT folder, the tool will auto-detect.
Drag-and-drop functionality; drag & drop any SPT folder into the window AFTER the initial path is set.
Compatibility notice; will let you know if the two separate versions are compatible or if they may conflict.
Usage
Extract SPT Mod Porter.exe from SPT Mod Porter.7z.
Place SPT Mod Porter.exe anywhere; it can also be placed in an SPT folder (next to Aki.Server.exe)
If placed in an SPT folder, click Browse in the Select SPT install panel. (alternatively, drag & drop another SPT folder into the window)
If placed somewhere else, click Browse in the App paths panel; then repeat step #3.
Check whatever boxes you need; Transfer server mods to port server mods, Transfer client mods to port client mods, Transfer order.json to port order.json file.
Press the big Transfer mods to <SPT name> button, and follow the instructions.
Support
If you need support, reach me on Discord:
*you're#7036
Alternatively, write a comment!