First, I would like to thank my friend Mr. Tron for teaching me how to make mod,
and SSH community for their advice!
Without their help, this mod would have been impossible!
To celebrate the launch of Payday 3, we created the Payday Mask mod!
Add 10 Payday masks, All masks buy Skier L1!
The regular mask has lvl 3 armor on the front and the Jacket mask has lvl 3 armor all around.
The value of the deal is very high: 200,000 rubles for the regular mask and 400,000 rubles for the Jacket mask, because you can get a "bounty" for taking them from the NPCs!
TODAY IS PAYDAY!!!!!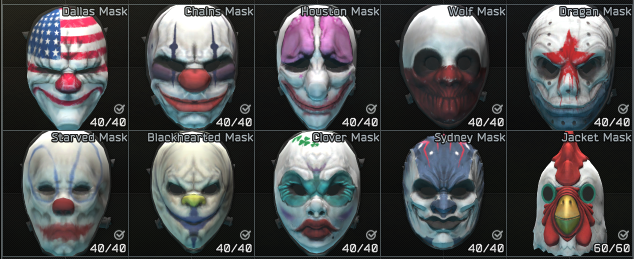 Installation
Place the unzipped file in the mod folder.
Source Code from SPT SDK Helmet Tutorial
SPT SDK Helmet Tutorial - AKI Mods Workshop (sp-tarkov.com)
Model (All copyrights belong to the person, organization or company that produced them)
Payday 2 Set 1 by XPS-Fanatic on DeviantArt
Payday 2 Set 2 by XPS-Fanatic on DeviantArt
Payday 2 Set 3 by XPS-Fanatic on DeviantArt
Payday 2 Set 4 by XPS-Fanatic on DeviantArt
payday 2: sokol by rotten-eyed on DeviantArt
Payday 2 - Sydney by Bringess on DeviantArt
Payday 2 - Clover by Bringess on DeviantArt
payday 2: jacket by rotten-eyed on DeviantArt
Fixed an issue in the handbook

We apologize for any inconvenience this may have caused