(HARDCORE VERSION)
-Less Profit/hr
-Initial Investment Required Before Unlocking Profits & Weapon Presets
-Only 1 Free Barter Item
-Higher Loyalty Level Requirements
This is Gunsmith. He is your new business partner.
👇


Gunsmith has 2 important jobs:
1. Manufactures and has all of your custom Weapon Presets available for purchase.
2. Collects all of the Profits and Items from your gun selling operation and makes them available to you.
Here's a look at what's in his inventory:
-Your Custom Weapon Presets ( 2 Collects Per Hour Each ) ( Available at LL2 )
-Ruble Stacks From Business Profits ( 1 Collect Per Hour Each ) ( Available at LL2 )
-Barter Items He Has Processed ( 1 Collect Per Hour Each ) ( Available at LL2 )

Gunsmith needs an investor to begin making money.
👇

* Business profits and weapon presets will NOT be unlocked until you invest the initial ₽2,000,000 to get to loyalty level 2. *
Use the "Investment GP Coin" to start investing.
👇      * ( PICTURE BELOW IS LOYALTY LEVEL 4 ) *      👇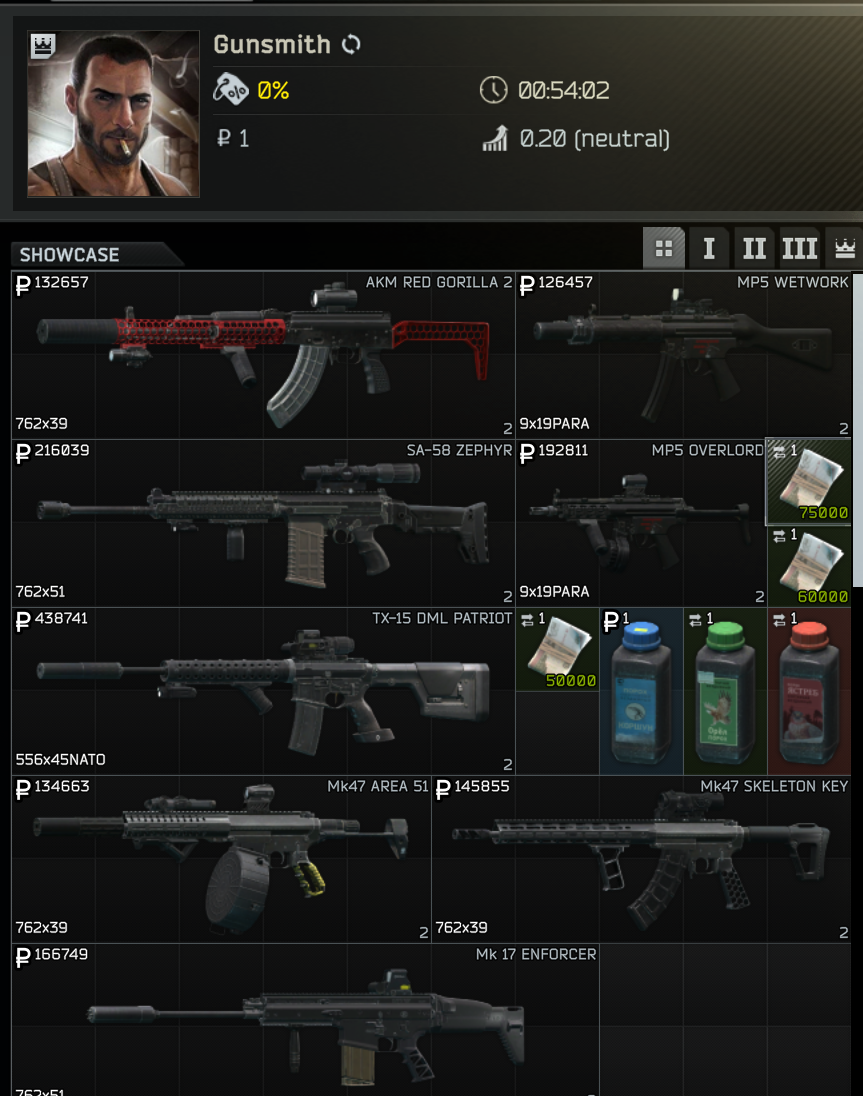 Gunsmith manufactures 2 of each Weapon Preset per hour :

👇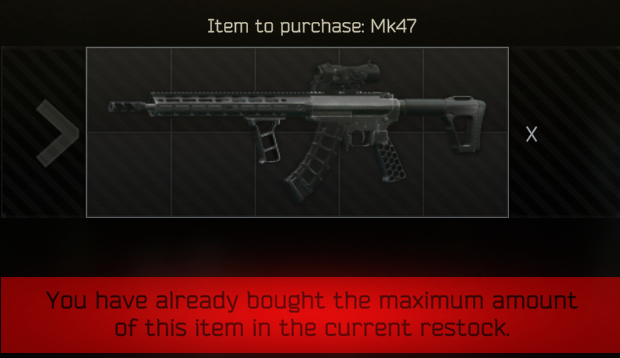 Collecting Your Business Profits:
* ( PICTURE BELOW IS LOYALTY LEVEL 4 ) *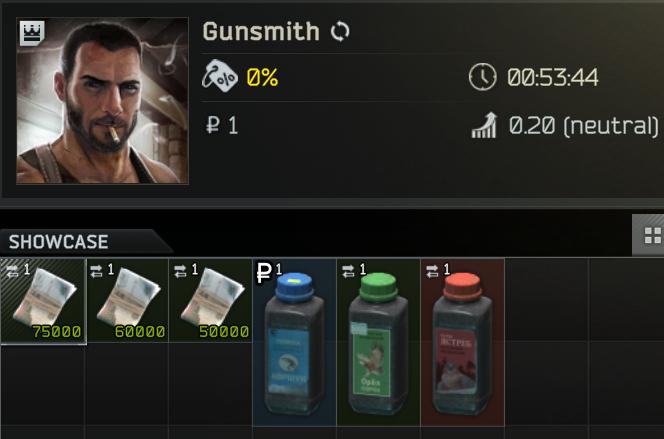 ☝️ Each Loyalty Level Will Grant You Extra Profits ( Per Hour ) : ☝️
LL2:  ₽75,000 Stack + 1 Free "GunPowder Kite"
     LL3: ₽60,000 Stack + 1 "GunPowder Hawk" ( Costs 1 "Weapon Parts" )
LL4: ₽50,000 Stack + 1 "GunPowder Eagle" ( Costs 1 "Weapon Parts" )

-Every time your loyalty level goes up, you gain access to a new
"Profit Stack"

👇

For example:
-At LL3 you can only collect the ₽75,000 + ₽60,000 Stacks
-At LL4 you can collect ALL 3 Profit Stacks, totaling ₽185,000
Total Average Profits Per Hour:
(Including Items)
LL2: ~ ₽80,000
LL3: ~ ₽150,000
LL4: ~ ₽210,000+
But You Can't Run A Business Without Investing...

👉 Gunsmith needs Weapon Parts to keep production going. 👈
* I highly recommend using a 👉MOD👈 that lowers Flea level requirement if you are just starting out,
so you can easily access Weapon Parts *
Each Profit Stack Requires 1 Weapon Parts Investment to Collect:
👇
( about ₽10k - ₽20k each )
When collecting your Profit Stacks, just enter the full amount of Rubles ( or spam 9 )

* ( EACH STACK CAN BE COLLECTED ONCE PER HOUR ) *
👇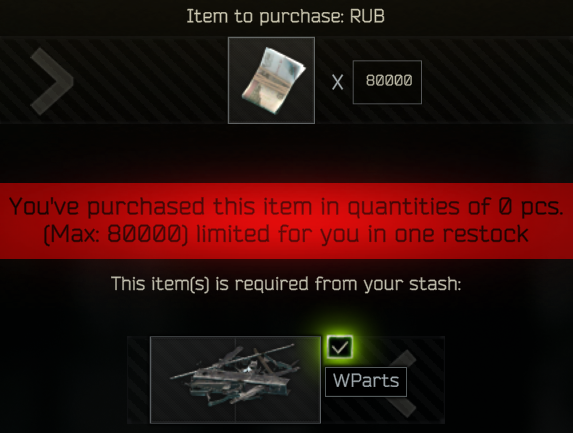 * I suggest keeping an Items Case or Scav Junk Box with a stockpile of Weapon Parts so you have a
healthy and convenient investment supply handy. *
"GunPowder Hawk" and "Gunpowder Eagle" also require 1 "Weapon Parts" each to obtain.
Here are the requirements for each loyalty level:
LL1: Level 1 PMC + ₽0 spent
LL2: Level 10 PMC + ₽2,000,000 spent
LL3: Level 18 PMC + ₽5,000,000 spent
LL4: Level 25 PMC + ₽8,000,000 spent
|
-When you make a weapon preset, it should instantly show at Gunsmith.
-If you delete a weapon preset, you must restart SPTarkov to see change at Gunsmith
|
INSTALLATION:
👇
-Extract "Hex'sFirearmsProdBusiness.zip" into SPTarkov > user > mods
-That's it.
If you need assistance or want to adjust any values,
I can help, just ask.
|
This mod is also compatible with my other mod that adds weapon presets to the Flea:
Hex's Buy Your Own Weapon Presets From The Flea
And I'm shameless plugging

my Spec Ops Menu Music Mod because its dope:
Hex's Custom Spec Ops Stash Music



  -Enjoy 


|
Credits:
Thank You Both for the Frameworks that Made this Mod Possible.

All Versions

1.0.6

1.0.5

1.0.3

1.0.1

1.0.0

All Versions
This too.

Ayeeee. I see you with that AI config update everybody been waiting for. I'll be trying it soon.