Hi Folk!
I will make it quick:
Your game will crash. (I tried to keep it to a minimum) Actually its pretty stable now. Animations getting stuck is the biggest issue
You will see reference errors. (Just restart the server to reshuffle) Its actually pretty good now. I haven't seen some in a long time.
It will be absolutely chaotic. (And if you don't like this, then, this might not be for you)
I have also not tested weapon modding with this.
--What does it do?--
It exchanges all the attributes of all weapons with different attributes of a different weapon, for all weapons.
--Installation--
Same as any other mod. Make sure the folder structure is as follows: SptTarki\user\mods\Nyndomizer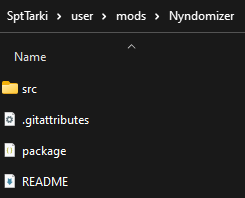 --Configuration--

in the .ts file, you can find the following text.
-Sillymode-
It changes every field that has a number. (Integer and Float) and adjusts them up and down - making them up to 10x more powerful/bigger. (This also goes for recoil and other things. Expect weird chaos)
-Textsilly-
It exchanges all the textfields in the game, causing absolute chaos. Every text in the game can be exchanged with any other text in the game. Expect weird behaviour and long loading times while the server starts.
-everythingwitheveryting-
If true, this allows most weapon attachments to be attached to most weapons. This will cause glitches and unintended behaviour. There will also be errors during botspawning in the console, though it still works. The weapons of bots can just end up not firing once.
--Troubleshooting--
Any reference error -> That just happens sometimes, close tarkov, restart the server.
Anything else? Make a comment.
This can run into trouble with other mods, especially if they change things with bot loadouts or hardcode things to be different. That is unfortunate, but I will not change it.
--Changelogs--
Changelogs are presented by Vladimir Hunchbakovski
v0.0.4:
- added the option to mix and match most attachments when the option everythingwitheveryting is on true.
- some smaller code changes
v0.0.3:
- Better code
- added back sillymode
- added the ability to shuffle all text fields
- faster code
- progress bar
- less object reference errors
- more stable game
v0.0.2:
- Worse code
- More stability
(Added the ability to exchange over 2 parents, not just 1 - only on whitelisted entities. The code is bad, but makes prototyping easy.)
v0.0.1:
- Initial release
Technical Explanation:
I just switch fields of items with the same parents, with a few additional safechecks to ensure it only affects items and nodes are kept as is.
Note: The commercial part in the picture is a joke, I have no interest of selling any commercial space.