A controller setup for Escape from Tarkov that includes everything you need for SPT.
Recommended sensitivity is 110%.
How to install:
Extract the .rar into C:\Program Files (x86)\Steam\controller_base\templates
Open big picture.
Press the controller icon on the Escape from Tarkov page.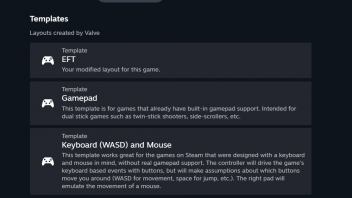 Click templates -> EFT
If you don't see EFT in your templates, go into your community layouts then search EFT. The author is "MissinginAction"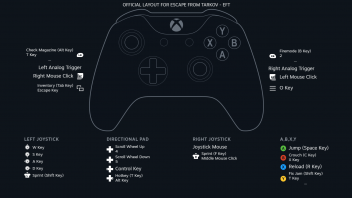 different link if the other dropbox one doesnt work
All Versions

1.0.0 fix

1.0.0

All Versions
EFT Controller Config - A Seamless Controller Experience

Greetings, gallant denizens of Single Player Tarkov! I am thrilled to bring tidings of a most splendid creation that enhances our journey in this digital realm: the "EFT Controller Config." Allow me to regale thee with my heartfelt enthusiasm for this invaluable addition.




For those who seek an ergonomic and user-friendly controller setup, tailored for XBOX One controllers, look no further. This mod is nothing short of a boon, a creation by a true virtuoso that brings the world of Escape from Tarkov within the comfortable embrace of your controller.




The beauty of this controller setup lies in its simplicity and ease of use. It has been meticulously crafted to encompass all the essentials needed to embark upon your Single Player Tarkov adventure. With your recommended sensitivity set at 110%, you shall find your controller responding with grace and precision.




Installation is a breeze, adding a layer of convenience to your gaming experience. Extract the contents of the .rar file into the designated directory within your Steam configuration. Then, in the grand tradition of explorers, add Escape from Tarkov as a non-Steam game, open the majestic Big Picture, and journey to the Escape from Tarkov page. There, amidst the digital tapestry, you shall find the "EFT" template, ready to serve as your trusty companion.




Should you encounter any difficulty in locating the template, fret not. Venture into your community layouts, and with a simple search for "EFT," authored by the illustrious "MissinginAction," you shall discover the path to your controller's perfect configuration.




In conclusion, the "EFT Controller Config" is a marvel that bridges the gap between our digital realm and the tactile world of controllers. It ushers in an era of comfort and precision, allowing us to navigate the challenging terrain of Single Player Tarkov with grace and ease. I, as an avid explorer of virtual realms, extend my gratitude to the creator for this wondrous gift.

I don't have a controler but if this is works...

You have just acomplished something that bsg could'nt in 5 years once again modders beat bsg